Chesapeake Bay Lighthouse Project
How This Site Came About
---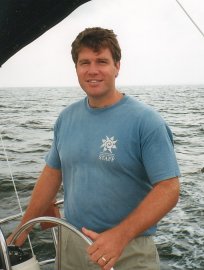 Hello. Thank you for visiting my web site on Lighthouses of the Chesapeake Bay. This project evolved faster than I would ever have imagined and certainly took on a size and life of its own. A few words on how it came to be - My wife and I own both a VW Westfalia camper and a Hunter 28 foot sloop. We try to do quite a bit of traveling. After getting the boat I became much more interested in the Chesapeake Bay, its history and culture. I began reading books on topics like skipjacks, log canoes, the oyster wars, and Smith and Tangier Islands. In April 1999 I stumbled on the last 10 - 15 minutes of a Maryland Public TV program on Chesapeake Bay lighthouses. It was created by a group that started at the mouth of the Bay and worked their way north via sailboat, hitting each of the lighthouses along the way. I knew almost nothing about the Bay lights (even that there were many). But, as a few weeks passed this idea began to grow on me as something neat to do. I did some research on the web, bought and read a few books, and we began to incorporate lighthouses into our cruises and camping trips. This gave a focus to our outings - a place to go. Soon it developed into a full-fleged project.
We first began trying to visit and photograph each lighthouse on the Bay (34), then added the lightship Chesapeake (35), then the lighthouses and lightships of the surrounding seaboard as well (43). Early on I decided to create a set of web pages - partly to learn more about web programming. These have evolved as we visited the lights, and I did more research and learned new html tricks. Eventually, after numerous revisions, I felt it had reached a size and quality that I wanted to exhibit it. As it currently exists, this site is somewhat of a prototype, lying between a personal site and a public resource. I've made some minimal attempts to publicize it and am also considering the option of loaning it to a small museum.
I'm not a historian and all of this was created for no payment. Please excuse any minor errors. Constructive criticism and feedback are welcome and I'll try to incorporate corrections and ideas I like. My e-mail address is CBLights @earthlink.net. In the meantime, I hope you enjoy my site and take the time to make your own discoveries of the Chesapeake or your own region, wherever it may be.
Matt Jenkins

Additional work I have done on lighthouses is available on the U.S. Coast Guard's pages at:
U.S. Coast Guard - Maryland Light Stations
U.S. Coast Guard - Virginia Light Stations

Copyright © 2001, Matthew B. Jenkins
---
---